Add or Change Learners
You can add multiple learners to the same Rosetta Stone® Version 4 TOTALe™ account.
Note: To extend your access to the online features of Rosetta Stone TOTALe, or to add online access for other learners on your account, go to Manage My Account in the Preferences menu.

From the Home Screen, click the Add or Change Learners icon to exit as the current learner. From here you can edit your account information, add a new learner, or sign in as a different learner.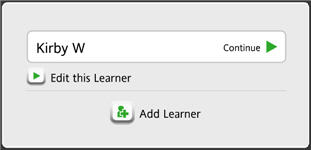 Add a New Learner
To add a new learner to your account, click Add Learner. Enter the new learner's information and click Continue.
When Rosetta Stone TOTALe starts, choose the course for the new learner. See About Your Course.
Edit this Learner
Click Edit this Learner to edit your account settings and update your access to your Rosetta Stone TOTALe online services.
Choose a Different Learner
If you've already been added to the account, click Continue next to your name.